I love seeing life change.  It is that simple. It doesn't matter if it happens during Sunday service, at a youth rally, Bible Study, at home, or in Nicaragua.  It doesn't matter if it is a friend, enemy, stranger, acquaintance, or family member.  It even doesn't matter if they are American or Nicaraguan or any other nationality in between.  When I see the Holy Spirit working in someone's life I just get JACKED UP!  Why do you get so excited you may ask?  It is because of many reasons, two of which are it takes me back to when Jesus started working on me, and most importantly, that person is going to spend eternity in Heaven with Jesus and me.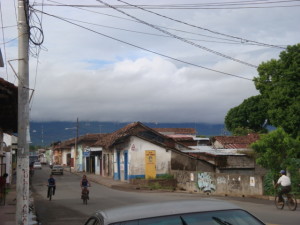 I have just returned from my 4th trip to Nicaragua.  I can honestly say that I cannot get enough of the country, the people, and their spirit.  To those who have never been I realize it sounds crazy to be drawn to a third world country (the 2nd poorest in the western hemisphere) where electricity and running water are not commonplace.  Air conditioning is found in the major cities only.  Large houses are for rich foreigners. Biking or walking in the main method of transportation. The average income is $5 a day for a family.  It sounds terrible and simplistic doesn't it? What the people of Nicaragua do have is Jesus; and he is ALL they need. Now that is the kind of people I like to be around.
Part 1
The team arrived late Sunday night and we were picked up at the airport by Mitch and Judy Marsh, the missionaries we would be working and living with in Grenada.  Our drivers name is Miguel who speaks no English but acts as if he understands every word we say and has one of the most enjoyable laughs I have ever heard.  After about an hour ride through the dark streets of Managua, Masaya, and then Grenada we arrive at the house and get our room assignments and basic instructions from the Marshes.  Everyone is exhausted from the long day and we pay little attention to the bats that are buzzing through the den.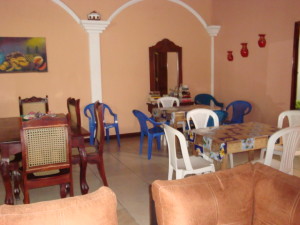 It is early to rise each day in Nicaragua so that work can be completed before the hottest part of the day.  The highs are low 90's and low's upper 70's.  We eat breakfast at 7AM, gather our things and head to the work site by 8.  We have Francisco and Mario along with us each day to translate. I really need to learn Spanish. As we arrive at Pastor Jose's house we start assessing the situation.  His small concrete block and wooden home has seen it's better days. If this house were in America we would not use it as a barn. The family and Mitch explain what we are to do; clean and paint the house inside and out.  The paint has already been bought, colors selected. Purple walls with a gold border on the inside, bright blue with white trim on the outside. "This is going to look awful" is what we Americans are thinking as we start the process.  Local kids are starting to come up to the house to see what is going on. Some of the team members break off from the work to love on them. They can't understand each other's words but the Nicaraguan kids do understand the kindness that is being shown to them and they can't get enough of it. We take pictures of them on our phones and show them.  They love to see what they look like. It sounds crazy doesn't it? Kids don't know what they look like? In this poor neighborhood, phones, cameras, and even mirrors are scarce. Games of soccer break out as the first coat of paint is almost done inside and out.  The weather has really cooperated with us and so much has been done already. Lunch arrives with Judy and Fran and we dig into our sandwiches and chips.  We discuss the possibility of fixing and painting the concrete floor of the house as well since so much has been accomplished already and our church was very generous in the funds they gave.  Pastor Jose and his family are thrilled to hear the news and the floor coating is arranged to be picked up the next morning.  The second coat is put on the walls and trim as the sun starts to beat down. Everyone is getting worn out. It is time to head back to the house to clean up and prepare for supper.